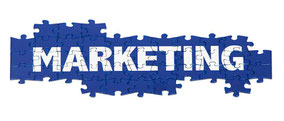 Most business owners find marketing to be daunting, but it's actually a lot of fun. In the corporate world and as the owner of my own business, I have used the following five fundamentals to guide me and my clients. 
1.    Where to start. If you look up the definition of Marketing, you will get a long explanation.  I like to say that it is the activity and process of communicating to all potential customers about the product or service you have to offer.  After all, how can someone buy something from you if they don't know you exist?  There are numerous ways to get the word out there…..networking, cold calling, direct sales, direct marketing/mailing, online marketing and advertising, just to name a few.  Which one should you use?  Well, the best thing is to use multiple channels of marketing, more than just one.  Which one you use depends on who you are trying to reach, what you want to accomplish and your budget. I would sell yachts differently than I would sell pencils.  This topic could be a whole book to itself, so I suggest talking to an expert.  A marketing specialist (or a good printer!) can help you here.
2.    Something is Better than Nothing. So many of my clients and other business owners I know strive for exactly the right marketing campaign…the right copy, the right pictures, the right colors…..and you know what happens??  The process goes on and on and on….  But, something is better than nothing.  So, don't strive for perfection. To take a line from Nike – Just Do It.
3.    Talk to YOUR CUSTOMERS, not to yourself. Have you ever had a conversation with someone and all they did was talk about themselves?  Boring and annoying, wasn't it?  Well, your marketing materials need to be designed to make your customers interested in what you are saying.  How do you accomplish that?  By talking to them about THEIR NEEDS.  What's in it for them?  For example - will you save them money?  Save them time?  Make them look great?  Make something that is hard easy?  Tell them clearly and up front what your product or service can do for them.  Tell them in easy to understand terms how your product or service can help them.  Tell them clearly and succinctly how you can be of benefit.
4.     Give them a REASON to contact you and purchase your product! The term for this is "call to action", and that's what you need to do.  Give your potential customer a good reason to contact you and purchase your product or service.  There's a reason you always see discounts and coupons and free stuff…..it works!!  People are very busy, and you need to give them a strong incentive.  Some "calls to action" that I use in my business are discounts, buy 500 and get 500 for free, or color for the price of black and white.
5.     And lastly…..Measure the results of your marketing. This one might be the hardest, but how will you know if your marketing is getting any results unless you stop to figure out if you're getting any sales from your efforts.  Get in the habit of always asking your customers how they heard about you.  You can then begin to understand how your marketing efforts are doing, and what is working.  And if something isn't working, don't necessarily give it up….try something different!  Once I tried a postcard that gave away a free coffee gift card to any new orders over $100.  When this didn't work I tried a discount on the order instead.
While this might all sound easy, I know that it can be hard to execute.  You wouldn't try to fix your own car, or to drill your own cavity, would you?  It's the same for marketing….get help from a professional.  Many marketing companies are willing to spend some time discussing marketing strategies and tactics in the hope of getting some business.  Take advantage of these offers….you can learn a lot and at no cost!  Then, if you really want to get serious about your marketing, establish a budget and talk to the agency that you liked the most.  They will discuss what's possible to do within your budget.  You can start slow and build over time. You only need to ask.